Most of you must have noticed QR codes spread onto visiting cards, magazine ads, billboards and the backs of products like wildfire – and not without reason. QR codes not only contain URL links to websites and social media sites, but also text-based information such as contact numbers, addresses and much more.
Not sure what a QR code looks like? A QR code looks a lot like a barcode, with the exception that it consists of an array of black and white boxes put together in a square shape. It's quite easy to generate a QR code as it's' absolutely free and you can simply choose from a multitude of sites to go ahead and create one.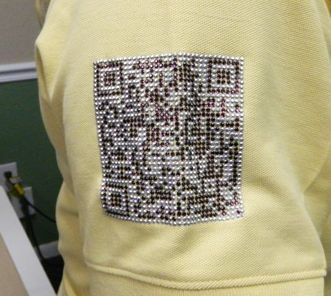 Now, the next obvious question is that how does a QR code work. It's actually quite simple. All one needs is a Smartphone and an internet connection – which most people have in today's day and age. It takes only a minute for anyone to download a QR reader app to their Smartphone and scan the image in front of them – and voila!
Why would I need a QR code?
If you're interested in growing your business, then here are the top reasons why you should ask your embroidery digitizer to put your QR code on that next t-shirt or bag:
To boost traffic to your site with an embedded link to the URL
To help them know, look forward to and even register for your next promotional event
To help people "like", "follow" or "pin" your business
To let people "pin" their favorite products and promote them for you
To get people to your landing page and subscribe to your email newsletter
To help promote and get people to look forward to your next deal
To improve the chances of your videos going viral
To easily allow people to review your business/product
With so many reasons to put your QR code where people can see it and put your business ahead of the curve, it's about time you consulted your embroidery digitizer to make it part of your next campaign. Most experienced digitizers will get the embroidery precise enough for the code to work. Some of the best places to get your QR code embroidered, so that it's easily visible are the sleeve, hemline, neck yoke or back of the t-shirt. You can even go ahead and get your QR code embroidered onto baseball caps, bags, leather tags put onto handbags and a whole range of fabrics/products after consulting with your digitizing partner.
At Powerstitch.com, we believe in educating our customers on what an embroidery digitizer can do for them, so that they can get the best value for their money. With over 8 years of professional expertise, we are known for impeccably digitized artwork delivered at the most competitive rates, on time, each time.