Consider this – you've got your digitized file, you're on the production floor and have the first embroidered piece in hand. BUT, the outlines are way off and the stitches don't even meet in many areas, or the stitches have just bulked up into a big knotty mess. You go ahead to confirm with your digitizer and he/she swears they've double checked the file and there's nothing wrong with it.
What do you do now? The answer is rather simple – check if you're using the right stabilizer.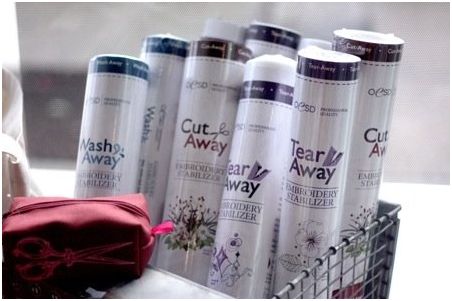 Yes, not having the right stabilizer in place can ruin everything. If you don't use any or use too less, then the fabric will be too loose to register the design properly. On the other hand, if you use too much, you run the risk of killing the fabric and messing up the design.
With the increasing popularity of machine embroidery, the market has been flooded with a whole range of stabilizers. However, as an expert embroidery digitizer firm that's been in the industry for almost a decade, we've come to conclude that there are about 4 basic types of stabilizers that you should know about –
Cut-away: These are permanent stabilizers that stay on the fabric, keeping it stable throughout the embroidery process and even afterwards. Cut-aways work best for knitted or loosely woven fabrics, as they keep the design from stretching out with frequent washing and wearing. In order to remove cut-away stabilizers, it's best to first roughly cut out the excess and then use a sharp pair of embroidery scissors to trim close to the stitching. Cut-aways come in light to heavy weight variants.
Tear-away: These are temporary stabilizers. As the name suggests, they are torn away after the embroidery process is complete. However, do keep in mind to use a tear-away that will tear in all directions instead of just one for best results. It's best to use tear-away stabilizers when you have firmly woven, natural fibers on hand that tend to relax and lay flatter after stitching. Tear-away stabilizers come in light to heavy weight as well as fusible and non-fusible variants.
Heat-away: These are temporary stabilizers as well. Heat-away stabilizers make for a great pick when the fabric is too delicate to handle a tear-away or too sheer for a cut-away. These work best on delicate, non-washable fabrics or when you are using off-the-edge stitching techniques. While these can be easily removed with an iron, one must read all the instructions and proceed with caution. These are available in the form of woven sheets as well as plastic film.
Wash-away: As the name suggests, wash-away stabilizers can easily be washed off using water alone and are designed to offer temporary support so that the stitches don't sink in. These are best used for mesh-like, delicate fabrics as well as those that are difficult to mark. Wash-away or water soluble stabilizers are also great for appliqués and cutwork. These are available in the form of plastic films, paper sheets, brush-on as well as spray-able liquids.
So, before calling your embroidery digitizer regarding why the design didn't turn out as desired, you should look into getting the right stabilizer in place. It will also pay to consult your embroidery digitizer on the stitch density of the design, so that you can choose the right weight stabilizer. Remember, the denser the stitch count, the heavier the stabilizer should be.
At Powerstitch.com, we believe in educating our customers with the intricacies of what an embroidery digitizer does in order to help them get the best value for their money. With over 8 years of professional expertise, we are known for impeccably digitized artwork delivered at the most competitive rates, on time, each time.