For a device that small, a sewing needle can make or break your entire embroidery design. It is one of the most integral parts of sewing. And you need to be right on point with the needle you choose. Especially when the needle rapidly hits the cloth surface at a speed of 600 to 1000 stitches per minute (approx.), even a small thing such as a slightly dulled end can damage the product. So how do you go about choosing which one works best for you?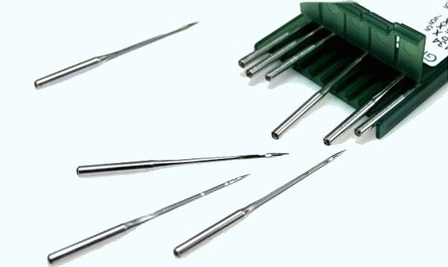 The Importance of a Good Point
Sewing with a needle that is not appropriate for the fabric can cause breaking or shredding as it may not work with the right precision. If you use a rounded needle instead of a sharp one on a particular kind of fabric like a denim cap, it may lead to missed or irregular stitches causing the fabric to pucker up or even leave behind uneven seams.
There are two main points the embroidery digitizer needs to consider before choosing a needle for embroidery design – type and size. The needle type depends on the material and the size will differ based on the thickness of the thread used.
Sharp Needles versus Rounded Needles
Depending on the type of fabric you are working on, you need to be careful about the needle you choose.
The point of the needle determines the size of the hole that will be left in the fabric. A woven fabric with a denser cloth requires a sharp needle, whereas it is better to use a rounded one with knitted fabrics.
Sharp needles work better to penetrate heavier fabrics like canvas or denim without causing a large and noticeable perforation. On the other hand, ball point or rounded needles can be used for knit fabrics like T-shirts and sweatshirts which easily slip through the cloth without cutting through the fibers unlike sharp needles.
Make the Right Choice
Always remember to vary your needles as per the fabric and product requirement.
For instance, for knitwear, it is always recommended to use ball point a.k.a. rounded needles.

Objects like caps need a stronger needle because the fabric can be quite tough. Some caps even have a thick

centre

seam which cannot be penetrated by a delicate needle. You can opt for a strong needle in size 11 to minimize the breakage due to resistance.

 Universal needles are available for an all-purpose use. They are slightly rounded  but still have a sharp tip and can be used for lightweight to medium-weight fabrics.

Your

embroidery digitizer

also needs to be aware of what fabric the design is going onto when digitizing so that the right density is used for the fabric.
It is best to select the needle first based on the fabric type and then choose the size based on the weight of the fabric and the thickness of the thread.
With over 8 years of experience in digitizing services, at Powerstitch.com our digitizers work seven days a week to ensure that only a superior quality product is delivered to you. We offer competitive prices with a 24 hour turnaround time and are well equipped to handle high volumes daily. Contact us today for more information; we would be pleased to build an association with you.